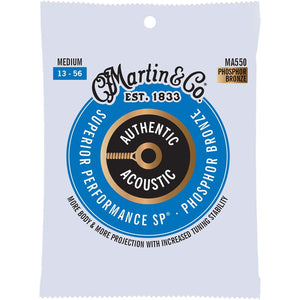 Martin
Martin SP Phosphor Bronze 13-56 Acoustic Strings
GUITAR ACCESSORIES: Every guitarist knows that their sound comes down to the strings. Our SP Martin strings feature higher tensile strength and tin-plated core wire on all six acoustic strings to enable a fuller and more balanced tone, a quicker response, and an increased tuning stability. With our prices, you can change them as often as you want.
ROCKIN' FEATURES: This amazing guitar strings set is another example of our company's mission to constantly improve the tone and playability of our guitars. Each set is priced so that guitar players can keep a spare set of strings in their gig bag and a few extra sets in the van, in the studio, and at home, making it a great gift for musicians.
MARTIN GUITAR PARTS & ACCESSORIES: Martin's superior guitars and accessories remain the choice of musicians around the world for their unrivaled quality, craftsmanship, and tone. We bring those same standards to these Martin guitar strings. Our attention to little details is what sets us apart.
SUSTAINABLE & RESPONSIBLE PRODUCTS: Sustainability has always been at the forefront of Martin Guitar. When we manufacture our products, we look for the most earth-friendly way to do so. We also believe in being responsible to one another, and that is why we support nonprofit music, arts, education, and environmental action organizations.
---
Share this Product