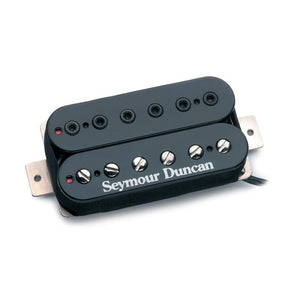 Seymour Duncan
Seymour Duncan Screamin' Demon Trembucker
Sale price
$ 119.00
Regular price
$ 155.00
TB-12
Moderate output, P.A.F.-style with added "growl." Great for classic rock, jazz-rock fusion, heavy rock and aggressive instrumental rock.
This pickup was designed in the Custom Shop for guitar legend George Lynch. It has the big open sound of our '59 ModelTM with a little less bite and a little more growl. The tone is big, percussive with a defined treble response that doesn't get harsh. It uses one row of allen screws and one row of standard slotted screws for a unique "airy" sound. Comes with four-conductor hookup cable.
Recommended for bridge position. Often paired with a moderate output neck pickup like the SH-1 '59 for P.A.F. tones.
For balanced and warm instruments. Works especially well with rosewood fingerboards.
---
Share this Product