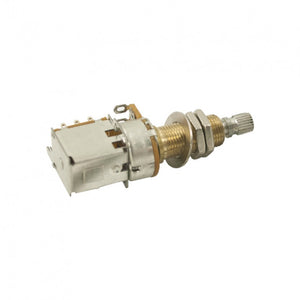 WD
WD Alpha 500K Push-Pull Pot, PPDT
Alpha® Potentiometer With Push-Pull Or Push-Push DPDT Switch 250 kohm - 500 kohm
Alpha® full size potentiometer for USA instrument with push-pull or push-push actuator switch used for coil tapping, splitting, phasing, or similar applications. Available in 250 kohm or 500 kohm.

[SKU:WDPDT-500PL-1]

Diameter = 24mm
Bushing Threads = 3/8-32
DPDT Switch: Push-Pull
Resistance: < 500 kohm
Taper: Audio Taper
Shaft: Split Shaft (24 Tooth)
Bushing Length: Standard Bushing 3/8 in.
---
Share this Product