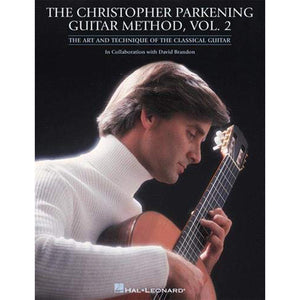 Backstage Music, Starkville
Chris Parkening Method, Vol. 2
Chris Parkening Method, Vol. 2 Intermediate to Upper-Intermediate Level Book/Online Audio Pack. By Christopher Parkening. Arranged by Jack Marshall and David Brandon. Guitar Method. Classical, Contemporary, Instruction. Softcover Audio Online. 138 pages. Published by Hal Leonard (HL.696024).
Item Number: HL.696024
ISBN 9781423434184. 8.5x11 inches. In Collaboration with Jack Marshall and David Brandon.
An outstanding source for the technique and repertoire of the classical guitar, this book continues where Vol. 1 leaves off. It teaches: all notes in the upper position; tone production; advanced techniques such as tremolo, harmonics, vibrato, pizzicato and slurs; practice tips; stylistic interpretation; and more. The first half of the book deals primarily with technique, while the second half applies techniques to repertoire pieces. As a special bonus, this book includes 32 previously unpublished Parkening edition pieces by composers including Dowland, Bach, Scarlatti, Sor, Tarreg  and others, plus three guitar duets. The online audio includes 60 demonstration tracks.
---
Share this Product